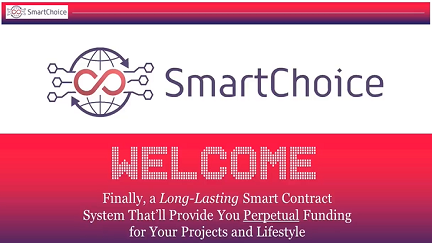 SmartChoice
2020-12-11 00:00:00
SmartChoice is a brand new, first-ever, perpetual crowdfunding platform that can be your answer to escape financial stress and leave money worries behind you. Imagine having the funds to start or grow a business, buy a new car, pay off debts or in fact for anything you need or want more funds for.

The program launched in December 2020 and joins a growing number of programs using smart contracts as base payout process. It will be using a TRON smart contract that provides 24/7 Global Instant Pay (second by second) directly into a Crowdfunding wallet.

Click here to watch the informal yet compelling recorded Zoom.. There are also live Zoom's daily, just ask for the link.

Escape the Rat Race & Leave Money Worries Behind You. Besides the standard back office system, SmartChoice has also put together a Cutting Edge Global Marketing App that will provide you all the tools needed to market the program Globally with videos in soon to be in 26 Languages.

We see the TRON smart contracts as the marketing option of choice for the near future. Additionally, the low initial cost (200 TRON or about $6 USD currently) makes this a choice for nearly everyone to get started. The last key component is their perpetual compensation system that allows you to refer just 1 person, and wind up getting 5, 10, 20 or more added to your front line. Given these positive options, we will be joining and promoting this program as soon as it opens up.

Enter your email and click the Get Started button to get more information on this exciting program.